- with our favorite foodie cristina guidali -
Meet Cristina, onze lokale Italian Superstar, wiens heerlijke veggie/vegan receptjes wij hier al jaren verslinden. Sinds kort heeft ze haar eigen kleine trattoria - Cristina's Kitchen - waar je al dat lekkers mee naar huis neemt. Wij vonden het dus een redelijk geniaal idee om haar uit te nodigen voor onze Mediterrane Garden Party vorige week. Ze trakteerde ons - en jullie - op 3 van haar favoriete gerechtjes. Gezond, weinig werk en perfect om op een grote schotel te presenteren om - Italian Style - met zijn allen te delen. Bravo Cristina!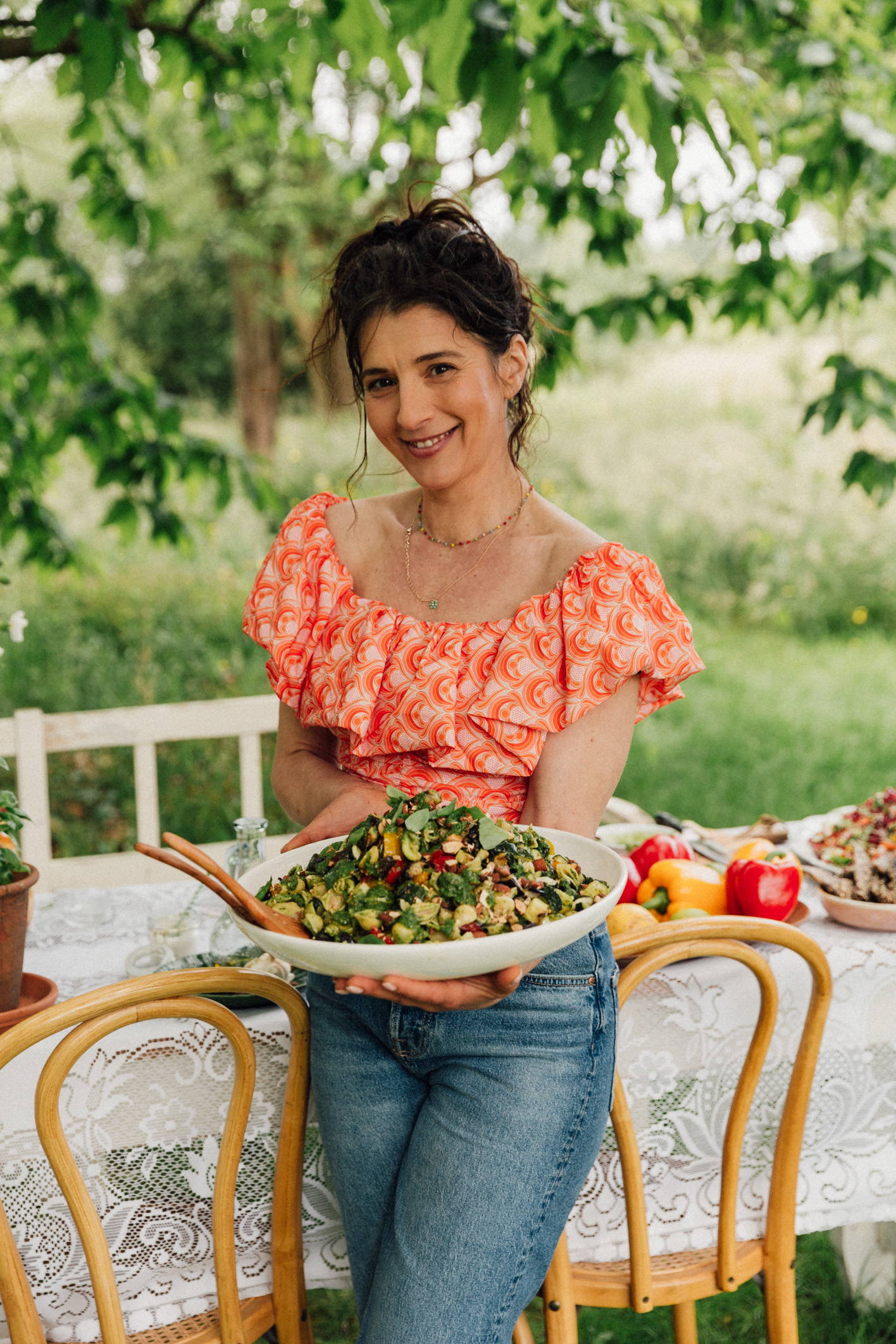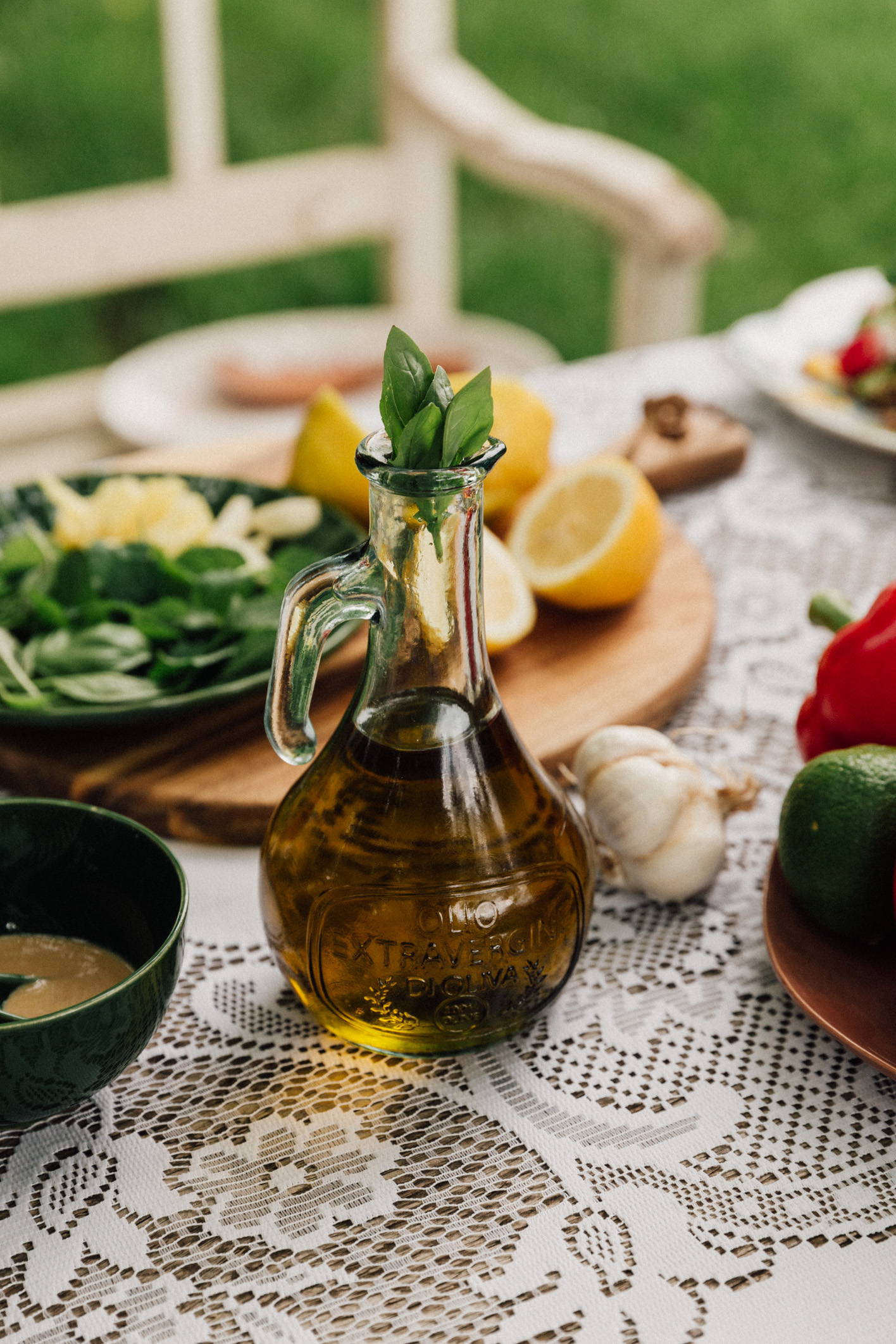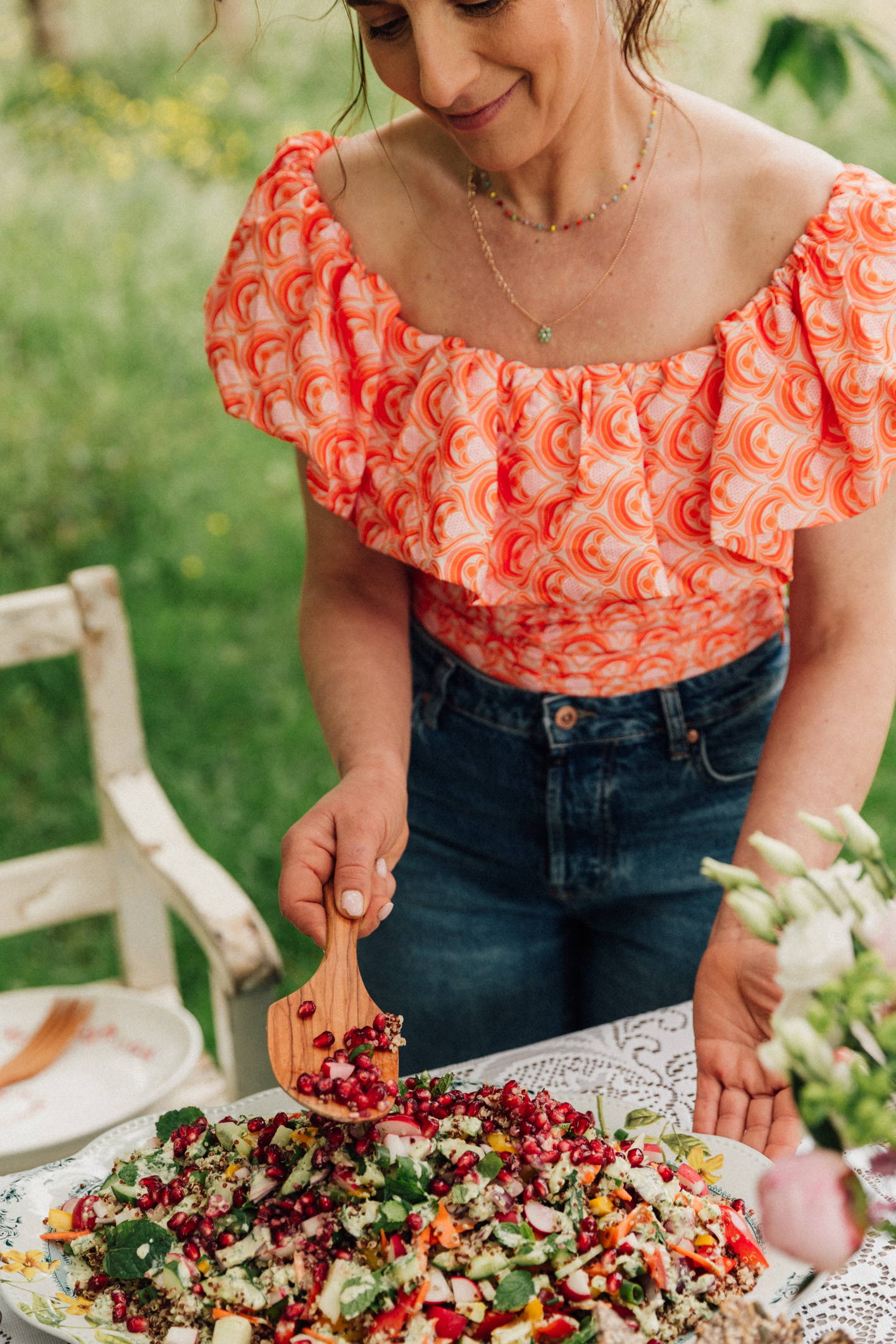 1/ Crunchy Beach Salade
"Perfecto for a lazy day with friends at the beach!"
- for 10 people -
"Start with chopping all your veggies in small cubes and set them aside. For the dressing add to the blender: the extra virgin olive oil, garlic , ginger, tahini, mint and a pinch of salt. Then slowly add water until creamy and pourable.
Combine the chopped veggies with quinoa and poor the dressing on it Give a nice good mix and add fresh mint leaf, pomegranate and lemon zest
Enjoy "

Salade:
700g gekookte quinoa
2 gele paprika's
2 rode paprika's
2 rode uien
1 komkommer
1 koolrabi
1 bussel radijsjes
1 granaatappel

Dressing :
300ml extra virgin olijfolie
100ml koud water
sap van 2 citroenen
2 teentjes knoflook
40g gember
3 eetlepels tahini pasta
Handvol munt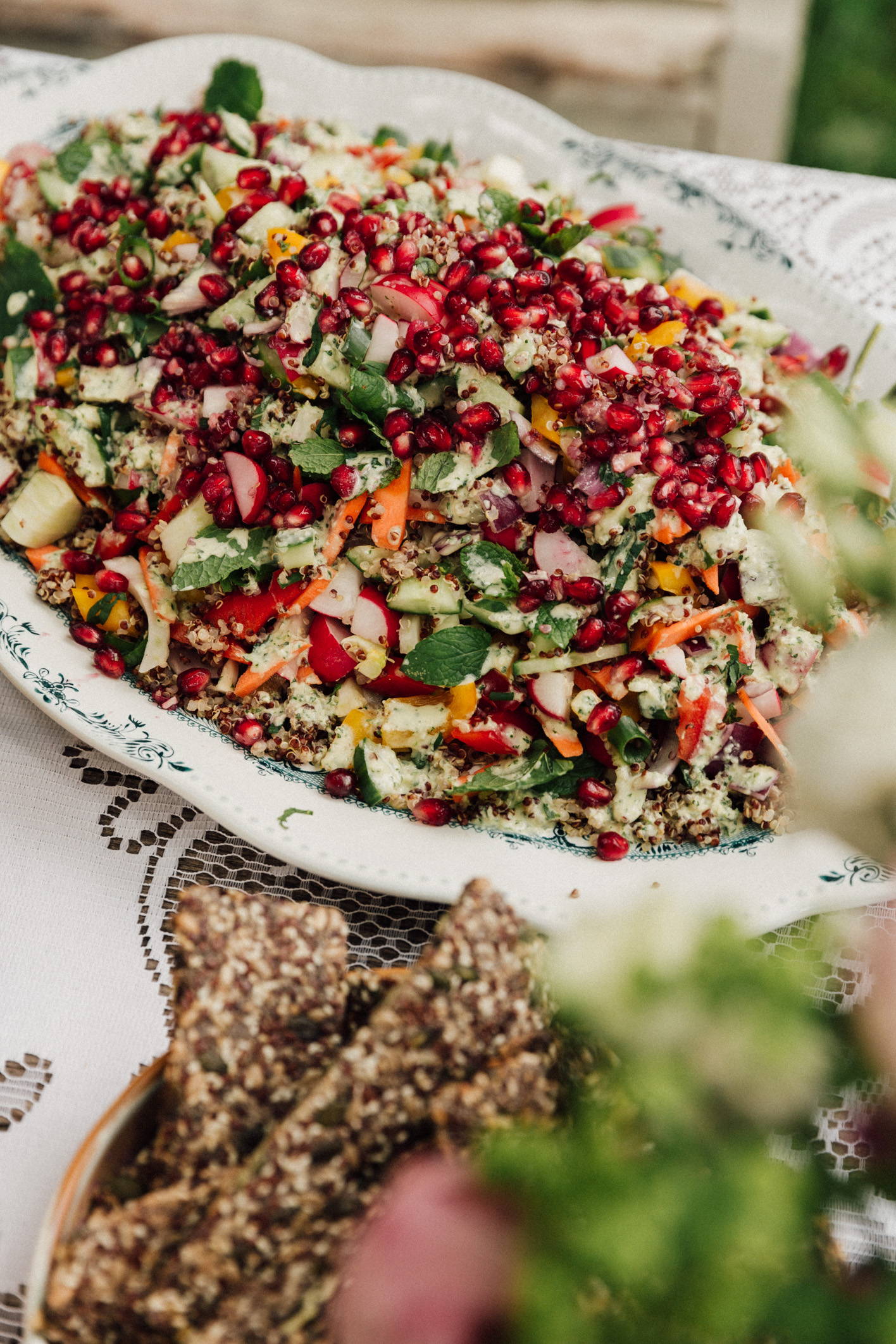 2/ Pasta Salade met Spinazie Amandel Pesto
"Pesto with a little vegan-friendly twist."
- for 10 people -
"Add to the blender: oil , garlic ,almonds ,basil, spinach and salt . Blend all together and pour the pesto on the pasta. Add your favourite veggies and serve with some chopped almonds and basil leaf .
Enjoy"
Pesto
200 ml extra virgin olijfolie
300g baby spinazie
Handvol basilicum
50 g geroosterde amandelen
2 teentjes knoflook

Saladde :
700gr gekookte pasta naar keuze
300gr geroosterde groentjes naar keuze of kerstomaatjes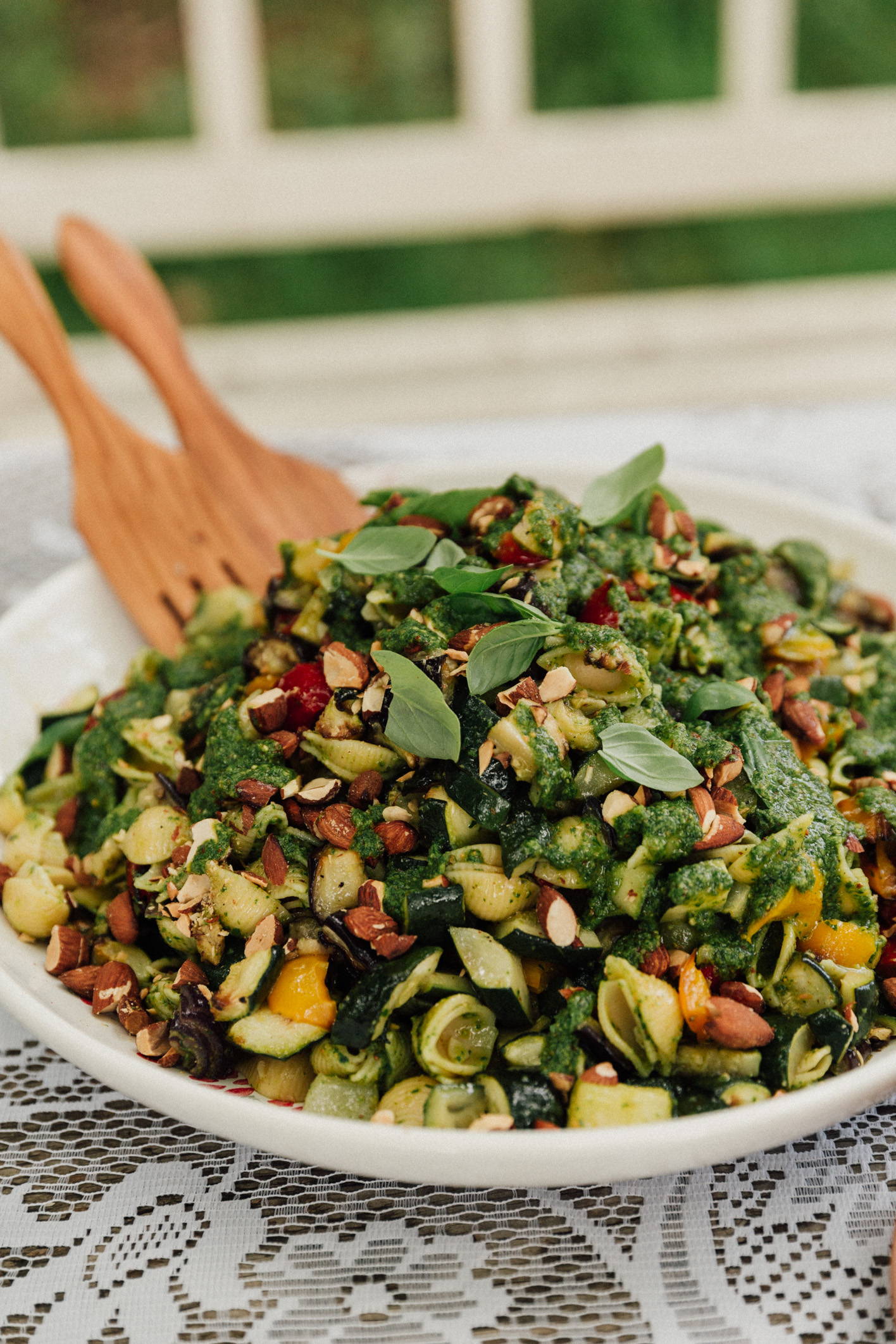 3/ Cristina's Signature Secret Chocolate Goodness
Het Team werd zowat half gek bij het zien - en proeven - van dit chocolade dessertje. Crunchy, decadent, zoet met die rode bolletjes en gewoon simply heavenly eigenlijk feitelijk. Een receptje kregen we deze keer niet, aangezien dit Cristina's eigen creatie is. Fair deal, aangezien we gewoon altijd bij haar langs kunnen gaan voor deze slices of heaven. Merci Cristina voor deze superfijne collab. Het was heerlijk om jou erbij te hebben.